ESB 2023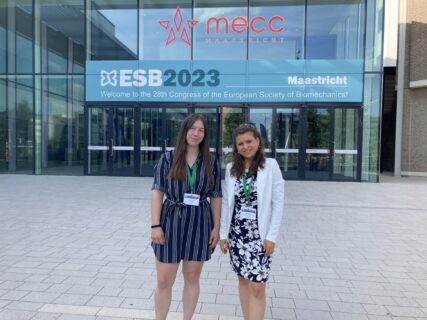 From July 9-12, the 28th Congress of the European Society of Biomechanics (ESB2023) was held in Maastricht, Netherlands. The conference endorsed the importance of the integration of mechanistic experimental and computational biomechanics with upcoming data-driven modeling. The conference venue (MECC) in the beautiful ancient city of Maastricht was perfect for both, the conference and also the smallest member of our team.
It was great to see the recent advances in the different fields of biomechanics and to meet researchers and companies active in the interdisciplinary field. Jessica Faber, Manuel Kainz (Institute of Biomechanics, TU Graz) and Silvia Budday presented our newest results on tissue-mimicking hydrogels and region-specific parameters for full brain simulations.
It was also great to meet FAU colleagues Prof. Anne Koelewijn, Dr. Jörg Miehling, David Scherb, and Iris Wechsler to discuss musculoskeletal modeling, brain mechanics, and human control.